About Us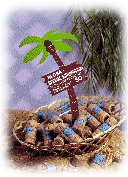 We pride ourselves in that we do more than "just" create the design elements – we get involved. The following are some of the many success stories that we have helped to create.
We had a client who purchased a few thousand straw baskets and did not know what to do with them. We designed a palm tree sign and filled the basket with samples. These samples were originally given away free, – now they sold for $35.00 per gross (144 pcs.) and they couldn't keep them in stock!
There was a company in

Florida whose sales manager dealt with us when he was in New York.
We received a call from him – he was frantic! He had a product that needed a new package. It seemed that if he could not come up with a good sales box, his biggest retailer was going to remove the line from their store. To make matters worse, he had only forty-five days to deliver the merchandise. We designed the boxes, had them printed and in the store well within the time frame. The box also won a national packaging award.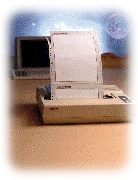 There is a distributor of power tools and the other types of tools that we were recommended to in 1981. The company did a 64-page catalog/mailer every year. After we completed the art make up of the book, we suggested that he print it on offset stock instead of coated. We also recommended that the books be mailed bulk rate as opposed to first class. He took our suggestions and it saved him over $6,000.00. There was one "little" drawback; a few days after the mailing, we received a call – "What's going on? We aren't getting any calls!" I explained that with bulk mail, it could take up to two weeks for delivery. By the third week of the mailing, he told us, "The phones were ringing off the hook!" Today, the book has grown to 240 pages, with almost 6,000 items.
Then came the computer generation. A client wanted to sell continuous form feed paper. The stipulation was that we design an ad that would look the same, but the message could be changed with a minimum cost. And, – that's just what we did!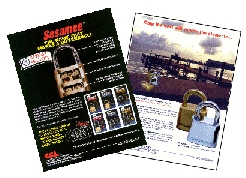 Next came a padlock company that had lost its share in the market place. We produced some very dynamic ads and placed them in the proper publications. Before long, their sales were stronger than ever.
We guarantee 100% satisfaction on all of our work. No project is too large or too small.